Blog
March 4, 2018
If you get the opportunity head over to instagram and check out Seeds of Africa and this brilliant pictorial. The photo's have been edited by us, but you can see the glorious originals on their page shot by @DAWITTIBEBU_
October 27, 2017
The qoobo cushion is an interactive, tail-wagging pillow that could replace your pet
Yukai engineering has successfully met its kickstarter goal for the design of qoobo, a robotic cushion with a tail intended to provide a sense of comfort to users. When caressed, the plushy cushion waves gently. When rubbed, it swings playfully. The cushion also wags to say hello to its owners. The interactive pillow is designed to provide comforting communication that warms your heart the way animals do. The robotic pillow makes users feel as though they are interacting with live animals and provides them with a sense of comfort, or 'tail therapy'. Through the kickstarter campaign,  yukai engineering applied its expertise and experience in robotic engineering to help all people – including those with pet allergies or apartment dwellers who can't own pets. the engineers hope to develop the technology further, by continuing their study on the animal's tail movements to offer even more realistic experiences.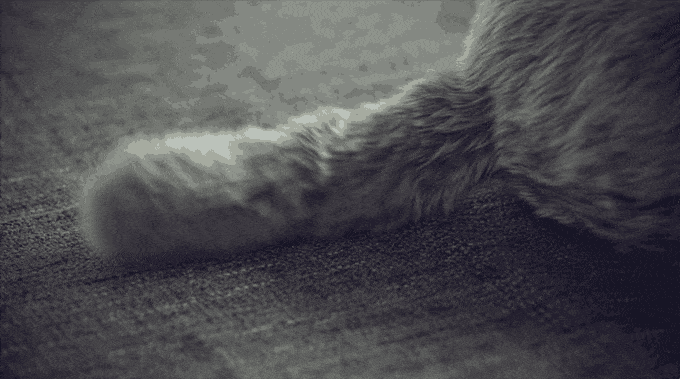 'we selected different materials for various parts of the robot to enhance the movements and the tail's appearance. we also made it durable to allow for use in various environments', explains the design team. with over 400 backers, qoobo reached its kickstarter goal of over 5 million yen or approximately 44,000 US dollars. a variety of styles and colors can be chosen, making the pillow customizable for future 'qoobo' owners. the first batch of pillows is scheduled to be delivered by august 2018.
October 3, 2017
When we think of design, when we think of beautiful places how often do we think of spaces to play – public spaces? Around the world we neglect our public spaces and many play areas feel tired and unloved. In Ethiopia there are so few public places which is why this is important. If you are to create spots why not invent places of mystery, places of fun, places which are more than practical, but art.
Artist Katrien Vanderlinden has painted colourful shapes inspired by toy bricks onto a basketball court in the Belgian city of Aalst.
Vanderlinden's Ezelsplein mural is based on a children's mathematical reasoning game named Logical Blocks, which comprises squares, rectangles, triangles and circles, in different shapes, sizes and colour.
Inspired by these shapes, she added triangles, circles and rectangles in between the traditional court markings – creating spaces for the local children to play other games.
Block colours in hues of blue, yellow and pink were chosen to fill in the shapes, as an "ode" to the bold and graphic Memphis art movement.
"I was inspired by an image of a box of building blocks. I loved the simple lines and shapes – squares, rectangles, circles, triangles of all sizes –  that all fitted in this box," Vanderlinden told Dezeen.
"I like the fact that you can play the basketball game and that this design creates extra spaces for children to make up their own games."
Vanderlinden's mural takes inspiration from similar inner-city basketball courts, also known as hype courts, which have been spruced up with colourful makeovers.
The ongoing trend has previously seen artist Kaws paint his signature motifs across two basketball courts in New York City and Willian Lachance create a giant mural across a series of basketball courts in a St Louis.
As with these earlier projects, Vanderlinden wanted to breathe new life into an inner city area quickly and cheaply. She proposed the idea to Aalst City Council who then assigned her with the city's grey tarmac Ezelsplein court next to a home for refugee children as her blank canvas.
"It's a very simple way to give a neighbourhood a facelift," Vanderlinden told Dezeen. "These Hype Courts bring different domains together: sports, art, culture and youth."
"When you walk down the street everything is grey: the streets, the facades of the houses, even the sky is grey," she explained. "The fact that you can bring colour in the everyday life of people is just amazing."
The Ezelsplein court paintwork was completed within two weeks, thanks to the help of 10 volunteers from the local community.
https://www.facebook.com/willber.willberforce
https://www.instagram.com/willberwillberforce/
https://www.facebook.com/etcreatives/
Tweets by WillberWillber
September 26, 2017
Addis Fine Art is pleased to present Michael Tsegaye, Addis Gezehagn and Wosene Worke Kosrof at the fifth edition of 1:54 Contemporary African Art Fair, taking place in Somerset House London from 5 – 8 October 2017.
Their booth G7A can be previewed on Artsy.
Visitor information 
1:54 Contemporary African Art Fair London 2017
Somerset House, London,
@154fair / www.1-54.com
Exhibition Hours
Wednesday 4 October  Preview Day
Thursday 5 October      11 am – 7 pm
Friday 6 October           11 am – 7 pm
Saturday 7 October       11 am – 7 pm
Sunday 8 October         11 am – 6 pm
September 22, 2017
Back in August, King Gizzard & The Lizard Wizard surprised released 'Sketches Of Brunswick East', the third of the five albums the band are supposedly releasing this year.
The album is due for a full release on 13th October, and the Aussie psychsters have now shared a video for its single 'Countdown'.
A pencil-drawn, animated clip, the video perfectly captures the relentlessness of the band's music.
"We were listening to compilations of Ethiopian music form the 1960s and 70s a lot," the band's Stu Mackenzie about the making of 'Sketches…' in a press release. "It was in no way thought-out though. If Murder Of The Universe was our most conceptual and arranged album – then Sketches… is the exact opposite. It was like we were continually jamming with ourselves."
While we wait for the two remaining King Gizzard albums in 2017, have a watch of the 'Countdown' video below.
https://www.facebook.com/willber.willberforce
https://www.instagram.com/willberwillberforce/
https://www.facebook.com/etcreatives/
Tweets by WillberWillber
September 20, 2017

TEVA EMBER MOC SLIPPER
Since the 1980's the Teva brand name has been synonymous with comfort and adventure thanks to their line of sport-sandals. And the latest footwear to join the Teva family, the Ember Moc Slipper, is another win for fans of convenience. Equal parts sneaker and cushy slipper, they're easy to slip on and off with the laidback collapsible heel and are a perfect choice for that long flight or a quick errand on a lazy weekend afternoon.
https://www.facebook.com/willber.willberforce
https://www.instagram.com/willberwillberforce/
https://www.facebook.com/etcreatives/
Tweets by WillberWillber