Design
June 19, 2018
Xenxo S-Ring helps you to attend calls on the go, store important files and do much more than you would have ever imagined a wearable can do. It's a Smartwatch on your finger.
Get it HERE
June 14, 2018

For the photography in your life…Get it, no filter needed HERE
May 27, 2018
Reinventing what drop-ceilings should be like, MNML's acoustic tile design for TURF comes with rare earth magnets that simply snap to the drop-ceiling grid framework without fasteners or hardware of any kind, but it's really the design of these tiles we're more intrigued by. Exploring tesselations and patterns that range from geometric to organic, the acoustic tiles for TURF bring a sense of dynamism that one usually doesn't see much in ceilings. Completely redefining the space, the TURF's ceiling tiles absolutely reinvent your interior space without altering the space or changing anything that's at or below eye-level (furniture, etc), turning a regular cuboidal space into something truly awe-inspiring.
Besides, it really does encourage you to look upwards and daydream for a bit, doesn't it?!
Designers: Scott Wilson, Tim Zarki, Arvid Roach & Dave Seal of MNML for TURF.
March 4, 2018
If you get the opportunity head over to instagram and check out Seeds of Africa and this brilliant pictorial. The photo's have been edited by us, but you can see the glorious originals on their page shot by @DAWITTIBEBU_
October 27, 2017
The qoobo cushion is an interactive, tail-wagging pillow that could replace your pet
Yukai engineering has successfully met its kickstarter goal for the design of qoobo, a robotic cushion with a tail intended to provide a sense of comfort to users. When caressed, the plushy cushion waves gently. When rubbed, it swings playfully. The cushion also wags to say hello to its owners. The interactive pillow is designed to provide comforting communication that warms your heart the way animals do. The robotic pillow makes users feel as though they are interacting with live animals and provides them with a sense of comfort, or 'tail therapy'. Through the kickstarter campaign,  yukai engineering applied its expertise and experience in robotic engineering to help all people – including those with pet allergies or apartment dwellers who can't own pets. the engineers hope to develop the technology further, by continuing their study on the animal's tail movements to offer even more realistic experiences.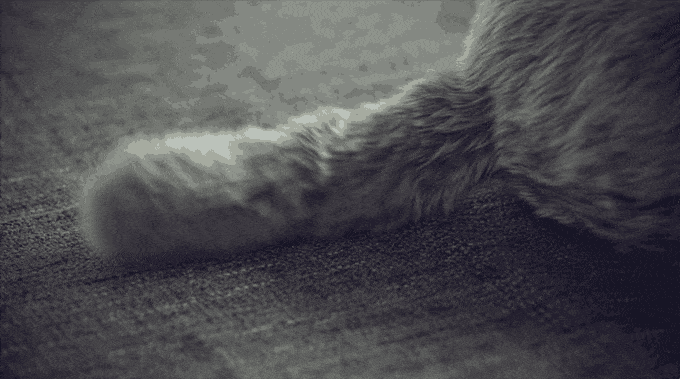 'we selected different materials for various parts of the robot to enhance the movements and the tail's appearance. we also made it durable to allow for use in various environments', explains the design team. with over 400 backers, qoobo reached its kickstarter goal of over 5 million yen or approximately 44,000 US dollars. a variety of styles and colors can be chosen, making the pillow customizable for future 'qoobo' owners. the first batch of pillows is scheduled to be delivered by august 2018.
October 3, 2017
When we think of design, when we think of beautiful places how often do we think of spaces to play – public spaces? Around the world we neglect our public spaces and many play areas feel tired and unloved. In Ethiopia there are so few public places which is why this is important. If you are to create spots why not invent places of mystery, places of fun, places which are more than practical, but art.
Artist Katrien Vanderlinden has painted colourful shapes inspired by toy bricks onto a basketball court in the Belgian city of Aalst.
Vanderlinden's Ezelsplein mural is based on a children's mathematical reasoning game named Logical Blocks, which comprises squares, rectangles, triangles and circles, in different shapes, sizes and colour.
Inspired by these shapes, she added triangles, circles and rectangles in between the traditional court markings – creating spaces for the local children to play other games.
Block colours in hues of blue, yellow and pink were chosen to fill in the shapes, as an "ode" to the bold and graphic Memphis art movement.
"I was inspired by an image of a box of building blocks. I loved the simple lines and shapes – squares, rectangles, circles, triangles of all sizes –  that all fitted in this box," Vanderlinden told Dezeen.
"I like the fact that you can play the basketball game and that this design creates extra spaces for children to make up their own games."
Vanderlinden's mural takes inspiration from similar inner-city basketball courts, also known as hype courts, which have been spruced up with colourful makeovers.
The ongoing trend has previously seen artist Kaws paint his signature motifs across two basketball courts in New York City and Willian Lachance create a giant mural across a series of basketball courts in a St Louis.
As with these earlier projects, Vanderlinden wanted to breathe new life into an inner city area quickly and cheaply. She proposed the idea to Aalst City Council who then assigned her with the city's grey tarmac Ezelsplein court next to a home for refugee children as her blank canvas.
"It's a very simple way to give a neighbourhood a facelift," Vanderlinden told Dezeen. "These Hype Courts bring different domains together: sports, art, culture and youth."
"When you walk down the street everything is grey: the streets, the facades of the houses, even the sky is grey," she explained. "The fact that you can bring colour in the everyday life of people is just amazing."
The Ezelsplein court paintwork was completed within two weeks, thanks to the help of 10 volunteers from the local community.
https://www.facebook.com/willber.willberforce
https://www.instagram.com/willberwillberforce/
https://www.facebook.com/etcreatives/
Tweets by WillberWillber
September 26, 2017
Addis Fine Art is pleased to present Michael Tsegaye, Addis Gezehagn and Wosene Worke Kosrof at the fifth edition of 1:54 Contemporary African Art Fair, taking place in Somerset House London from 5 – 8 October 2017.
Their booth G7A can be previewed on Artsy.
Visitor information 
1:54 Contemporary African Art Fair London 2017
Somerset House, London,
@154fair / www.1-54.com
Exhibition Hours
Wednesday 4 October  Preview Day
Thursday 5 October      11 am – 7 pm
Friday 6 October           11 am – 7 pm
Saturday 7 October       11 am – 7 pm
Sunday 8 October         11 am – 6 pm
September 20, 2017

TEVA EMBER MOC SLIPPER
Since the 1980's the Teva brand name has been synonymous with comfort and adventure thanks to their line of sport-sandals. And the latest footwear to join the Teva family, the Ember Moc Slipper, is another win for fans of convenience. Equal parts sneaker and cushy slipper, they're easy to slip on and off with the laidback collapsible heel and are a perfect choice for that long flight or a quick errand on a lazy weekend afternoon.
https://www.facebook.com/willber.willberforce
https://www.instagram.com/willberwillberforce/
https://www.facebook.com/etcreatives/
Tweets by WillberWillber
September 13, 2017
apple has unveiled iPhone X — an all-glass design packed with a host of new features, including wireless charging, a 5.8-inch super retina display, and face ID. Labeled 'the future of the smartphone', the device is the first iPhone capable of being unlocked using facial recognition. iPhone X will be available for pre-order from October 27, and will be in stores by November 3, 2017.
'for more than a decade, our intention has been to create an iPhone that is all display. the iPhone X is the realization of that vision,' said Jony Ive, apple's chief design officer. 'with the introduction of iPhone ten years ago, we revolutionized the mobile phone with multi-touch. iPhone X marks a new era for iPhone — one in which the device disappears into the experience.'
apple iPhone X introduces an all-screen display that follows the curve of the device to its rounded corners. Designed to be water and dust resistant, a seven-layer color process allows for precise hues and opacity on the glass finish, while a reflective optical layer enhances the colors. Rather than the traditional home button, iPhone X users can swipe up from the bottom of the screen to return to the home screen.
All saved facial information is protected by the secure enclave to keep data extremely secure, while all of the processing is done on-device and not in the cloud to protect user privacy,' explains apple. 'face ID only unlocks iPhone X when customers look at it and is designed to prevent spoofing by photos or masks.'
Working with A11 bionic, the most powerful and smartest chip ever in a smartphone, the TrueDepth camera captures and analyzes over 50 different facial muscle movements, then animates those expressions in a dozen different 'animoji' — including a panda, unicorn, and robot. Available as an iMessage app pre-installed on iPhone X, users can record and send messages with their voice that can smile, frown and more.
The glass back design enables wireless charging solutions, which can be done via two new charging mats from belkin and mophie. iPhone X will be available in silver and space gray in 64GB and 256GB models starting at $999 (USD).
iPhone X is packed with incredible new technologies, like the innovative TrueDepth camera system, beautiful super retina display and super fast A11 bionic chip with neural engine,' added Philip Schiller, apple's senior vice president of worldwide marketing. 'iPhone X enables fluid new user experiences — from unlocking your iPhone with Face ID, to playing immersive AR games, to sharing animoji in messages — it is the beginning of the next ten years for iphone.'
Follow Spots
https://www.facebook.com/willber.willberforce
https://www.instagram.com/willberwillberforce/
https://www.facebook.com/etcreatives/
Tweets by WillberWillber
April 15, 2017
Despite the countless new note-taking devices that technology throws at us, there's something about the tangibility of putting pen to paper that makes us not want to let go of the writing tools we know and love the most. until now, no ipad, laptop, or smartphone has managed to electronically recreate the experience of writing. With that being said, SONY have set out to create a digital alternative to replace the piles of a4 sheets currently littering our desks, that still creates the same satisfying sensation. enter the large DPT-RP1 e-paper tablet, already the world's thinnest and lightest digital device, measuring just over half a centimeter in thickness and equipped with a high-res electronic paper screen.
The e-paper tablet is the successor of SONY's first digital paper device, the DTP S1. following customer feedback, the new device is designed to take the concept of an e-paper display and turn it into a device that actually looks and feels like a sheet of paper. SONY shed pounds from the device to make it even more lightweight, and adds a newly-developed non-slip panel onto the e-ink screen to give the same sense of resistance as writing on real paper.
The usability of the DPT-RP1 is designed around the writing experience, with the home buttom and micro USB terminal conveniently placed at the top of the device, to stay out of the way of the user's hands. even the back of the device is finished to a texture that feels exactly like paper. the A4 tablet can hold about 10,000 PDF files, making it equivalent to the biggest notebook you've ever owned. the combination of a newly adopted electrostatic capacitance type touch panel system and a rechargeable stylus pen even allows detailed writing to the edge of the screen, just like a real sheet of paper.
In the future. SONY wants to continue with its mission to make paper obsolete by creating a 'digital paper collaborative server software' that will allow companies to send forms straight to the e-paper tablet, saving any need to print and fill them in by hand.the DPT-RP1 is set to be released on june 5th 2017 in japan.